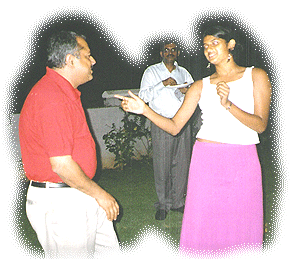 Can we ever forget,…
Among the 10 sexy men in Bangalore

His prose on Alfy's purple jeans

The quiz on himself that Sanjoy could not answer!

Singing 'Tu Bangali chokri' with Aliya

His mouth-organ


He loved
A fried egg with his dinner

Mangoes - as much and any time

Cooking eggs at midnight

Making up 'mad scientist' stories

Little children - the smaller the better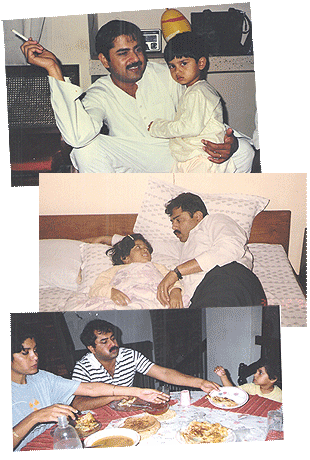 His dreams
Aliya brings home the first Olympic gold

Have his own study place

A silver jaguar

Taking Shangon to Greece

A family home at Lucknow
And mischief
"Ring ring", went the landline at Shangon's office. One of the office girls answered, "Good morning, CDL." "Can I speak to Shangon please," asked the strong male voice at the other end. "Just one minute Sir." It was for the Boss. "Who shall I say is calling?" asked the girl politely. "Mr. Shangon here," answered Sanjoy, tongue-in-cheek.


"Yes constable, give her a challaan," is what he told the traffic police who flagged down his wife because she wasn't wearing a helmet. "She never listens to me." Shangon stared in horror at her Knight in shining armour who instead of protecting her in the face of the law - promptly turned against her. And this notwithstanding the fact that he had never ever asked her to wear a helmet!!!!


"Why don't you tell your husband that you are going to be late at work. I'll also tell my wife the same thing and then we can go for a long drink in the evening," said Sanjoy winking at his wife Shangon. They were sitting at 'Nandini' an extremely popular food chain lunch time sharing a table with two young small town girls. The latter left in a hurry not wanting to be part of this clandestine love affair of married couples!!!


"Consented," a letter to Aliya's school teacher declaring he had no objections to Aliya going on a school trip.
When young Shujah had injured and fractured all his limbs in a series of road accidents in his 12th year at school, Shangon blamed Sanjoy for all this. She insisted that Sanjoy join her in making Shujah promise that he would not drive again before he was licensed to. Sanjoy assured her that they would sit down that evening and convince the child about the importance of 'the right thing at the right time'. ""Come out - on to the balcony. Now. All of you," said Sanjoy on the phone to Shujah at about 7 that evening. We all ran out to watch Sanjoy drive in on a spanking new 500CC bullet motorcycle! "My son needs confidence now, not diffidence," he explained to Shangon late that night.
"Jee madam, maal pahuch gaye. Ek sou tel ke dabhe la rahe hain. Payment tayaar rakheye," was the start of a telephone conversation with Ma. And Ma seldom recognized his voice, or even if she did, she played along like a doting mother, just to humour her maverick son.


"Hai Allah", was the Caller Id on his cell phone for Shangon's call. She always wondered why?



Mary Lou, Smarty Joe, and Lucky Finnigan. Three fictional characters he came up with one night on a weekend family getaway. He was teaching 15 yr old Shujah and 10 yr old Aliya how to gamble. Shujah being the older and wiser, was in on the secret, and the two of them play-acted cardsharps from LasVegas, scamming poor innocent Mary Lou (a.k.a. Aliya), by repeatedly dropping cards on the floor, thus distracting her and switching her cards and cleaning her out completely of the 'dal danas' they were betting with. Shangon, of course, stood on the balcony sulking, refusing to be a part of the process of corrupting her young children.