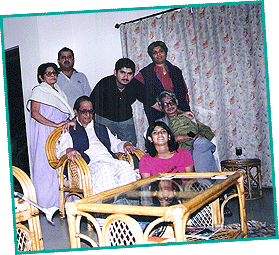 From his mother…..
From childhood, Sanjoy was an extremely sensitive, private and sensitive soul. As a mother, I was baffled to cope with his restlessness - about what? I could never make out! From the day of his birth on 5 Sept 1954 till May 1962, when my father-in-law brought him to me in Delhi, with the words "Now it is time for him to recognise his parents', he remained a jigsaw puzzle.
Sanjoy grew up and was groomed in a middle class pravashi Bengali family with a liberal outlook and strong educational background. He, being the first grandchild in a family of eight uncles and aunts, headed by an endearing grandfather was a totally spoilt child.
It took a lot of effort and time to make him do anything under threat. He remained unbridled horse till the end! He hated tutoring in any form and hated school, college and universities he attended. I vividly remember I once engaged a Bengali tutor to teach him Bengali language. After a couple of sessions, he refused to attend these classes. Any kind of routine work was frustrating to him. I remember when he was a junior officer, he was posted a secretary to the Chief Minister. He grumbled at the work and at first opportunity changed it to a posting of his liking - something to do with computers. At that time computers were not there in the administration.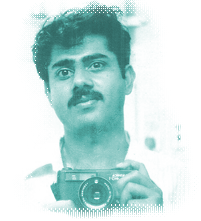 Though he was always of a commandeering nature, even as a child, he hated anyone ordering him to do anything. While in the midst of his studies at the MA level, he decided to have a short break and left for a nondescript village in Kerala where some NGO had set up a centre for rural development. After spending a few weeks, he got fed up with the slow pace of the work and came back to resume his studies. Only after his return, did my husband inform me of his adventure. He had taken his father into confidence, leaving me wondering about his absence and whereabouts.
After completing his MA, he joined as an independent volunteer in a rural development project launched by later Prof. Ravi Mathai of IIM Ahmedabad. This was in Jawaja, which later came to be known as the JAWAJA Project. It aimed to give a new orientation to rural development work. His main assignment was to organise the local mochis into groups and search for a new mechanism to sell their shoes. He worked hard and was able to help them to learn new techniques and expand their trade and enhance their income.
At one particular time, they required support from the district administration, Sanjoy wanted to introduce them to the District Collector who was from the same college as Sanjoy. When Sanjoy tried to get an appointment from him, but he also found it difficult. When the appointment was granted, he went and met the person. But he was totally indifferent to their pleadings and was even rude to them. Angry with his attitude, it was at that time, that Sanjoy decided to join the IAS and help the poor. In his words, 'to be a humble learner instead of a big bully'. That is how he explained to me how he decided to join a profession for which he had no interest.
The usual practice of the TV media in the seventies was to interview the top scorers in the selected IAS list. In case of non-availability of such persons, they used to pick up a person known to some media person. In the case of the 1979 batch, Sanjoy was called for a television interview and asked about his priorities as a career administrator. He clearly said 'development issues and communal problems'. Elaborating his statement, he said since he was already engaged in rural development work, he would be able to do this with an expanded vision. As for the communal problems, he was more than convinced of his ability to deal with it effectively - both with his head and heart. Since he was a product of a mixed culture (Hindu Muslim), he would be able to understand and resolve issues of both communities.
In 1994, I had taken my final year student's of Miranda House, Delhi University for a field trip to study the problems of the miners in Kolar Gold Fields which was on the verge of closure. Sanjoy was then the D.C. of Kolar. He had given an appointment to meet my students at 6 p.m. I alongwith with my students were kept waiting for over four hours. Naturally we got restless and worked up. When he walked in, he first touched my feet, and said, "I am sorry. I got late as I had to get a pujari of the temple from his house. He had locked the public temple on purpose to deprive the poor scheduled caste people from entering the temple for …..puja. (I have forgotten the name of the puja) .
As a child, Sanjoy never bothered to take part in any competition or to have any particular hobby. He did not have many friends, nor did he like or enjoy to participate in any group activity. His interests were confined to horse riding and reading books - at times much ahead of his age.
Though the world may know him as an extrovert, but as a mother I found him a lonely child and more so - he enjoyed his loneliness.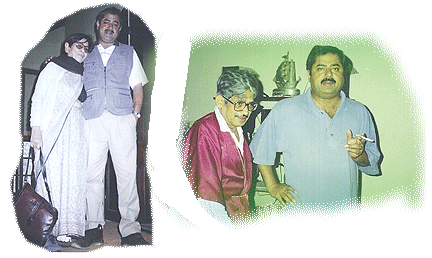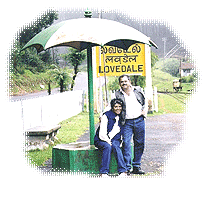 From his brother.....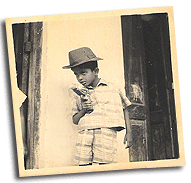 We were born into the same family. Only difference was that he had the Magical lead of 2 years over me. Magical because during our growing up years he got to do things before I could. The 2 years lead also gave him the Bengali title of Dada…..Guddu Dada….and with it came Dadagiri. He had the advantage of years plus growing up in the happening city of Delhi, while I was cultivating the 'Aadas' of laid back Lucknow.
Getting together on rare occasions was full of fun an adventure. I still remember the excitement coursing through my veins as both of us chased owls in the crumbling ruins in the neighbourhood. Or the time that we target practiced with air-gun pellets at the imaginary enemy in another abandoned ruins. Cricket, cycling, carrom, coke kept us fully occupied during our pre-teen years. And then we became teenagers. I was in awe of him, his swagger, his tight jeans, his boots, his hairstyle and his gleaming bike,,,,, what fun it was to get my first joyride on his 2 wheeler on the silken Delhi roads.
Then time moved on. We were both busy pursuing our careers. Our paths did cross occasionally, his more than mine as he traveled extensively first as an IAS officer and then as a Corporate Honcho. He had the great dream of buying back the old house where we were born so that the entire family could get back together. That and possibly other dreams did not get fulfilled in his action packed life. We all, well almost all, did get-together but at a sad moment to bid him the final farewell. A new star was twinkling brightly in the sky.
From his wife.....

Dad - as he was called by everyone. Obviously by the kids, but also their friends and then for the sake of convenience - by his wife. His dream was to have his own study. 'Teak paneled, book shelves to the ceiling, soft carpeted floor and a leather chair to sit back in,' this was his dream - something that he never was able to put together for himself. But he imagined it - a lot.
At home, Sanjoy was a restless person. As Pragya said so aptly, "Sanjoy looks as if he always needs his PA with him." This was probably true, for he loved giving instructions. Even to the dog. And everyone would do as they were told. Even the dog.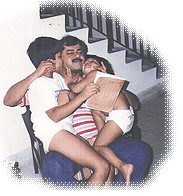 A typical day would start with a leap out of bed, drawing the curtains apart and breathing in the morning. This would be followed by, "Oh God, I'm late." "Late, for what," asks his sleepy wife, stirring a toe awake one by one. By that time, he was already in the loo and shortly after that, would take off for the day. Most mornings were with Aliya and Bazooka, driving off to the stables to work the horses. It was there he would call for his meetings and like I said, everyone listened to him and reached there!!!
His bedside reading was very esoteric - ranging from Baburnama (an all time favourite) as well as books on maths and physics. Interspersing these were Calvin and Hobbs. His 50th birthday gift from his daughter was a Calvin which he read, reread and read again. Along with Shogun, and the Economist.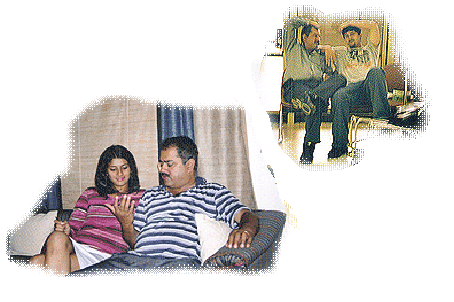 He edited a poetry magazine called Silhouette, and even tried to correct JK Rowling's sixth book on Harry Potter (just to irritate Aliya). He wrote regularly for the Statesman, and a column for Bangalore Times on IT.com. And then there was his immortalization of Alphonse's purple jeans at LBSNAA.
Sanjoy loved to sing and had a well-toned melodious voice. His choice of music was as esoteric as his books. There were mornings when we all sang Bismark with gusto, to quawallis (he had a special affiliation for 'channavey ghar ajaa'). From old hindi songs to sufi poetry, from Bob Dylan and Mick Jagger (I can get no satisfaction……), to Rhinestone Cowboy and Pretty Woman, and on occasion even Aliya's choice of hip hop and rock music (which he referred to as 'banshees in a graveyard!')………..